Children's Dance ClassesBallroom, Latin, Rock 'n' Roll, Salsa, Mambo and More!Children's Dance Classes In Gloucester
Dance Illustrated offers dance classes to children ages 3- 16 years. A variety of dance styles are offered including; ballroom, latin, rock n' roll, salsa, mambo, classical, modern sequence and freestyle.
Children are able to learn at their own pace in a supportive, caring environment. WE cater for all abilities from absolute beginners to advanced.
Children are able to learn to dance purely for enjoyment, or can work towards the IDTA syllabus medals if they wish to do so.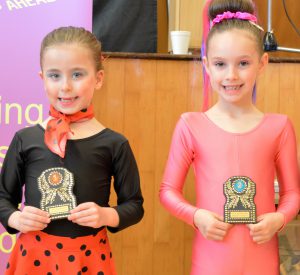 Ballroom and Latin Dances
We offer the full range of ballroom dances include waltz, quickstep, tango and slow foxtrot, together with the Latin styles of rumba, samba, pasodoble, cha cha cha and jive.
Freestyle Dance
Freestyle dance is choreographed-routines to chart music. We teach a variety of styles including freestyle, slow and street. This type of dance is very popular in our children's classes.
Party Bookings
We also offer tuition at parties for children and adults. Choose which type of dance you would like to learn and we will come along and teach you.