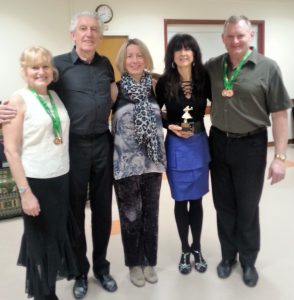 tryAdult Dance Classesfrom Dance IllustratedAdults Classes
Dance Illustrated offers ballroom and latin classes to adults from absolute beginners to advanced.
Classes are fun and social and we regularly hold practice evenings, dinner dances and weekend breaks.
These enable our pupils to enjoy their dancing in a social environment. Some of our members also perform cabaret for us at these events.
You will be made to feel very welcome at all our classes.
Ballroom and Latin Dances
We offer the full range of ballroom dances include waltz, quickstep, tango and slow foxtrot, together with the Latin styles of rumba, samba, pasodoble, cha cha cha and jive.
Rock and Roll Dance
Rock 'n' Roll is taught within our adult dance classes.
Wedding Dance
We specialise in choreographing wedding dance routines to the track of your choice. We cater for all abilities and the steps are designed to suit you both as a couple, as well as give you confidence on the dance floor. Although aimed at couples who want to learn a dance routine for the first dance on their wedding day, it is also suitable for other members of the wedding party who want to brush up their dancing skills.
Private Dance Lessons
We offer private dance lessons if you want to concentrate on a particular dance or make faster progress.
Party Bookings
We also offer tuition at parties for children and adults. Choose which type of dance you would like to learn and we will come along and teach you.